About Chef Lavender
At seventeen, a divine cow looked me in the eyes urging me to give up animal products. I haven't looked back since. Battling a tumultuous relationship with food, allergies, and leaky gut, veganism was my solution. I experiment with and taste different vegan dishes every day and look forward to sharing them with you!
Lately I've been developing a podcast... Lavender Lunch!
Lavender Lunch is a podcast for anyone who loves food or is interested in the culinary world... and more specifically, veganism & plant-based lifestyles!  
Listen to Lavender Lunch Podcast
Top Dishes
Momo Panang Curry
"It tasted better than the Thai dishes I've eaten in restaurants!" - Craig, San Diego
Learn How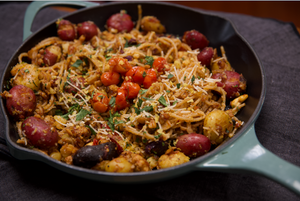 Fried Black Pepper Pasta
A magical, textural, crunchy fried spaghetti experience.
Teach Me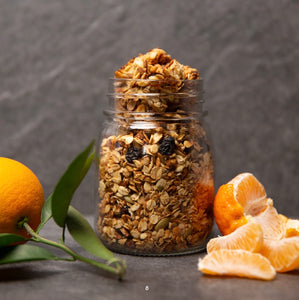 Coromandel Muesli
Your key to a dank breakfast! Fresh, citrusy, crunchy, low-sugar, & easy to make.
I Want!
Reviews
What a gift Lavender's book is! Her love language is food, and through her art she expresses her passion for protecting animals, for teaching humans how to find their best self, and for honoring our Mother Earth. 

Chuck S, Los Angeles
I never have eaten such tasty food made by my own hands! Lavender made it simple. The preparation was well planned and there was plenty of food left over which I like. It was a fun activity to do with my daughter as well. Lavender made it relaxing, by joking, singing and dancing around the kitchen. It tasted better than the Pad Thai dishes I've eaten in restaurants. I even learned how to use a knife correctly. I want to do it again with my girlfriend. Thanks Lavender!

Craig B, San Diego
You made me feel confident in the kitchen for the first time! Your little adjustments along the way after you checked in with me gave me comfort. My attitude towards cooking has changed, and I no longer feel stressed in the kitchen!

Nika B, Brooklyn
The granola has become my everyday breakfast with coconut yogurt and berries. Makes me so happy!

Beth L, Florida
Sami!!! I'm finally going through your book and shocked in joy realizing the impact our vegan paste had on your journey! I'm so honored and then I am so proud of you for putting one best foot in front of the other to be who you are today.  "Her love language is food" I love what Chuck says about you. 

I'll cherish this book forever and I thank you for shedding light on the curry story that is part of me and I am part of! 💖💖🌸🌸

Momo J, Del Mar
Sami, never in my whole live did I think I would cook something so delicious and healthy.  Thank you so much.

A whole new world was opened to me with your book, I'm not just saying it I mean it. Cooking can be fun haha.

Eli P, St. Louis
I just opened Lavender's book. It's so awesome!!!!! Good on her! I'm so impressed! Thank you, thank you, thank you 🙏🏻! I think I'll make my vegan son, Alex something from the book. She's so young and she's going for it. I love it.  ❤️

Leni R, Las Vegas
OMG this i unbelievable. Best panang curry I've ever had, truly. 🤤

Jessica A, Little Italy
I really, really enjoyed all your classes. You made things so easy, I didn't feel overwhelmed. I really appreciated the education side too, learning new terms and how to hold knives and what to cook with. And the social side is a bonus. I'm so doing moreeeeee classes, this face is going to be a face you can't get rid off hahaha so creepy. So much fun. Annndddd I'm doing the sushi burrito in the next coming days. 

Every morning I wake up and say out loud one thing I am grateful for. I want to share with you what I said out loud this morning when eating my bowl. I am grateful for Max, because he introduced me to Chef Lavender and the wonderful cookbook. I am grateful for Chef Lavender because of the classes and the dish I am eating is delicious! 

I am sooo full right now, and I made another sparking coffee hehehe have a wonderful rest of you day, I'll pass on any people your way if they want to know more. Need to get more aussies buying this book!!

Alexandra I, Australia